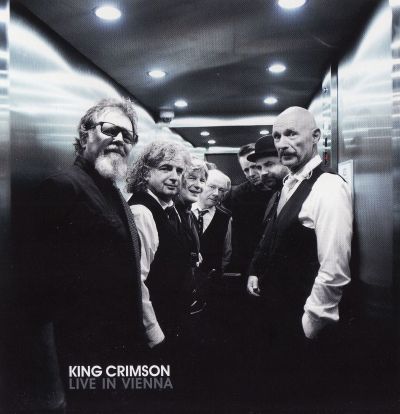 INFO:Source:
WEBRip - AUDIO
Video compression mode:
Flac
Size MB:
see the file
Total Run Time mn.
see the file
Three CDs featuring the complete concert from Vienna on Dec. 1st 2016 mixed from the original multi-track tapes CDs Presented in concert sequence with discs 1 & 2 featuring the complete first and second sets. CD 3 features Vienna encores plus the long awaited live recorded debut of Fracture by the 2016 line-up as performed in Copenhagen CD3 also features a series of soundscapes edited into newly sequenced pieces. Drawn from the introduction music (composed/improvised afresh for each night) & featuring Robert Fripp, Mel Collins & Tony Levin, this essential component of current live KC shows also receives its most complete presentation to date. Presented in a 4 fold-out digifile package with 16 pages booklet featuring tour photos & notes by David Singleton & housed in a slipcase.

King Crimson continues to re-invent & re-imagine both itself & its music; the kind of thing that once would have been called a "progressive" approach. It's an approach that has benefited band members and listeners alike from January 1969 & continues with tours of Europe & Japan in 2018, the band's 49th year.

Tracklist:

CD 1:

01 Walk On Monk Morph Music of the Chamber
02 The Hell Hounds of Krim
03 Pictures of a City
04 Dawn Song
05 Suitable Grounds for the Blues
06 VROOOM
07 The ConstruKction of Light
08 The Court of the Crimson King
09 The Letters
10 Sailor's Tale
11 Interlude
12 Radical Action II
13 Level Five

CD 2:

01 Fairy Dust Of The Drumsons
02 Peace
03 Cirkus
04 Indiscipline
05 Epitaph
06 Easy Money
07 Devil Dogs Of Tesselation Row
08 Red
09 Meltdown
10 Larks' Tongues In Aspic Part Two
11 Starless

CD 3:

01 Heroes
02 Fracture
03 21st Century Schizoid Man
04 Schoenberg Softened His Hat
05 Ahriman's Ceaseless Corruptions
06 Spenta's Counter Claim
Attention:
Files are subject to expiration and can be automatically deleted if their not downloaded 30 days after the last download.