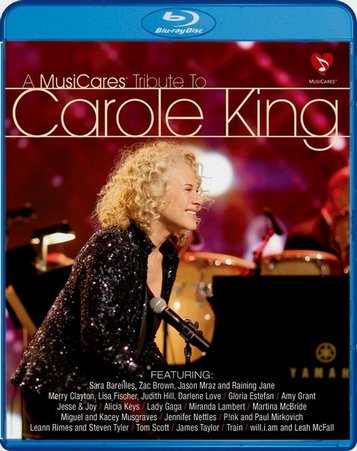 INFO:Source:
WEBRip
Video compression mode:
[MKV,1080p][H.264,AC3]
Size MB:
1790
Total Run Time mn.
99:06
Tracklist:

01. "Hi-De-Ho (That Old Sweet Roll)" - LeAnn Rimes and Steven Tyler
02. "So Far Away" - P!nk and Paul Mirkovich
03. "I Feel The Earth Move" - Train
04. "You've Got A Friend" - Lady Gaga
05. "It's Too Late" - Gloria Estefan
06. "Love Makes The World"/ "Where Is The Love?" - will.i.amand Leah McFall
07. "Beautiful "- Sara Bareilles, Zac Brown, Jason Mraz, and Raining Jane
08. "Way Over Yonder" - Merry Clayton, Lisa Fischer, Judith Hill, and Darlene Love
09. "Where You Lead" - Jesse & Joy
10. "Crying In The Rain" - Miguel and Kacey Musgraves
11. "(You Make Me Feel Like) A Natural Woman" - Alicia Keys
12. "Been To Canaan" - Jennifer Nettles
13. "I'm Into Something Good" - Amy Grant
14. "It Might As Well Rain Until September" - Miranda Lambert
15. "One Fine Day" - Martina McBride
16. "Up On The Roof" - James Taylor
17. "Home Again" - Carole King, Moez Dawad and Ahmad A. El Haggar
18. "Sweet Seasons" - Carole King and James Taylor
19. "Hey Girl" - Carole King and James Taylor
20. "Will You Love Me Tomorrow" - Carole King and James Taylor
21. "Jazzman" - Carole King and Tom Scott
22. "I Feel The Earth Move" - Carole King, Various
Attention:
Files are subject to expiration and can be automatically deleted if their not downloaded 30 days after the last download.